Chicks Against Hunger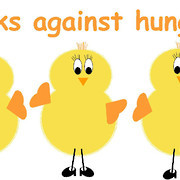 December 2, 2016 — Founded to fight back against hunger in Lorain County, Kim McDonald helped to launch Chicks Against Hunger.
This grassroots organization based in Elyria hosts food drives throughout the year, working directly with food pantries throughout Lorain County.
"With more than 15 million U.S. households facing hunger issues, that equates to one in every seven households experiencing food insecurity," says Krall. "True hunger is a health issue causing stress in communities. Hunger affects all demographics, be it children or seniors. It's important to Chicks Against Hunger to work directly with food pantries in Lorain County to help our neighbors that are in need."
Started nearly seven years ago, in the summer of 2010, Chicks Against Hunger is founded by Kim McDonald, Sherry Lunt, and Annmarie Nyikes. Today, there are five other members of the organization including Amy Malloy, Kellie Renfro, Susan Marinac, Stephanie Heideman, and Anne Battistoni.
McDonald says the Chicks Against Hunger team is looking forward to 2017. They'll host their annual Spring Red Carpet event on May 23, 2017 at Smittys Place in Elyria. They'll also be hosting a food drive for September Hunger Action Month and on World Food Day on October 16.
If you'd like to get involved or donate to Chicks Against Hunger, you can contact McDonald at [email protected] for more information!
You can learn more about Chicks Against Hunger by visiting www.chicksagainsthunger.com or by followng them on Facebook.