Follow the Fish 'ArtShop'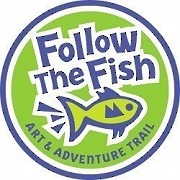 June 20, 2013 — Saturday, June 22, from noon to 8, the Follow the Fish "ArtShop" takes place in Lorain's own nascent "Arts District." (The Arts District comprises a three block "Live/Work" area, from Driscol Music on the north to Swiss American and Nielsen's jewelers (artisans of custom jewelry design) on the south.
This very walkable artists' enclave also boasts: Lorain Arts Council (exhibitions and classes for budding artists), (exhibitions and performing artists on week-ends), Follow the Fish Arts Adventure Trail (a piscine arts happening); Jevon Terance Designs (couture) and the -our beautifully restored, 1540 seat treasure with its exciting menu of concerts, live theater and giant screen, near-IMAX quality, 3D movies.)
Art in many forms will be displayed and sold amid great music, fun, food, and beverage. Don't miss it!