Artist Aimee Lee Exhibits at Kendal Gallery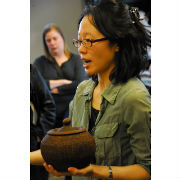 January 25, 2015 — On Wednesday, January 28th an exhibit titled "Korean Paper Takes Shape: Hanji Art by Aimee Lee", opens in the Gallery and runs through March 15th.
Aimee Lee states, "My main material is paper, and I make and use paper in sustainable ways with abundant local raw materials. Through papermaking and handwork, I keep alive ancient techniques and evolve them to reveal the fragile and strong nature of our precarious lives. The heart of my current work is rooted in Korean papermaking and paper craft traditions."
She continues, "The most compelling to me is jiseung, or paper weaving, a method of cording strips of paper into remarkably strong strands that are woven like baskets to create a breathtaking array of beautiful and functional objects. It was first used hundreds of years ago in Korea to reuse scraps of precious paper from old books and offcuts when making other objects; nothing was wasted because paper was so labor intensive to make, and handmade paper was incredibly durable. In some old pieces you can still see the printed or written marks indicating that a book was taken apart, or a civil service examination reused, to twist and twine a vessel or bag."
Aimee Lee is an interdisciplinary artist who works with handmade paper and the leading hanji (Korean paper) researcher and practitioner in the United States. She holds a BA from Oberlin College and an MFA from Columbia College Chicago. She researched Korean paper arts as a Fulbright fellow and built the first and only Korean papermaking studio in North America in 2010 at the Morgan Conservatory in Cleveland. In 2012, The Legacy Press published her first book, Hanji Unfurled: One Journey into Korean Papermaking, recognized by the Eric Hoffer Book Award in 2013.
She exhibits internationally, and her artists' books reside in collections that include the Joan Flasch Artists' Books Collection, Museum of Modern Art Library, and Yale University Haas Library. She teaches and lectures at sites that include the American Museum of Natural History, Asian Art Museum, Cleveland Museum of Art, Denver Art Museum, Cleveland Institute of Art, Institute of East Asian Studies at UC Berkeley, Metropolitan Museum of Art Paper Conservation Department, , and many more.
An artist reception is scheduled for Friday, February 6th at 4:30PM, where Lee will give an illustrated lecture. The exhibit and lecture are open to the public and located at Kendal at Oberlin ~ 600 Kendal Drive ~ Oberlin. For more information call 440-775-0094.