Main Street Lorain Seeks Committee Members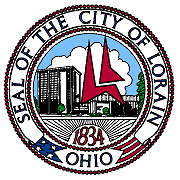 November 4, 2019 — Board members of the newly formed Main Street Lorain met earlier this week for the first time as an organized entity. After several intensive hands on sessions with Francis Jo Hamilton, Director of Revitalization with Heritage Ohio, parent entity to the Ohio Main Street programs, Main Street Lorain joins neighbors Amherst, Oberlin, Vermilion and Wellington as an affiliate member city with eyes on becoming a full-fledged Main Street Ohio program in the near future.
The board is comprised of 16 people, all of whom volunteered for a two-year term during a Heritage Ohio meeting held at Spectrum last month. The four officer positions were nominated and elected at the same meeting. The board members are: President Kurt Hernon, owner of Speak of the Devil on W. Fifth Street, Vice President Chris Cocco of Clark & Post Architects, Treasurer Jeff Neal, local real estate agent and Secretary Jim Penttila of BITS. The remainder of the Board includes Page Hernon, also of Speak of the Devil, Barb Piscopo of Lorain Historical Society, Fr. Alex Barton of Church of the Redeemer, citizen and philanthropist Ben Norton, local realtor Andrea Neal, Rob McFarland from Lorain City Schools and council-elect, Tom Brown of the Port Authority, Jennifer Black of Lorain Public Library System, Jevon Terance of Jevon Terance Boutique, John Muzik of Muzik's Auto Care, Ryan Aroney of United Way of Greater Lorain County and Pat Morrison of Footprint Tours.
Every Board member is required four things: a specified monthly time requirement that includes attendance in a minimum of eighty percent of required meetings, a financial commitment, a seat on one of four committees and assistance in recruiting additional committee members. "We've got a really great group that I feel will represent the people and interests of this community well," says Cocco, "We look forward to seeing who they bring to the table to join them as recruitment for our four committees begins."
The four committees and their objectives are:
1. Organization is the building of consensus and cooperation between the groups that play a role in the downtown. Many individuals and organizations in the community have a stake in the economic viability of the downtown.
2. Design involves improving the downtown's image by improving its physical appearance - not just the appearance of buildings, but also of street lights, window displays, parking areas, signs, sidewalks, streetscapes, landscaping, promotional materials and all other elements that convey a visual message about what the downtown is and what it has to offer.
3. Promotions involves marketing the downtown's unique characteristics to shoppers, investors, new businesses, tourists, and others. Effective promotion creates a positive image of the downtown through retail promotional activity and special events utilizing the downtown as a stage area of community activities.
4. Economic Development involves strengthening the existing economic base of the downtown while diversifying it. Business enhancement activities include helping existing downtown businesses, recruiting new businesses, providing a balanced mix, converting unused space into productive property, and sharpening the competitiveness of downtown merchants.
Several members will be in attendance at 11 a.m. on Saturday as the city dedicates the newly installed arches on the corner of Fourth Street and Broadway. "I am very excited about the formation of Main Street Lorain for the merchants," says Mayor Koziura "I look forward to working with them."
A Mix and Mingle is scheduled for Wednesday, Nov. 6 from 5 to 8 p.m. at . "We encourage anyone that lives, works or owns property in the city of Lorain that is interested in helping to revitalize our downtown to attend," says Kurt Hernon. "We'll be there to provide information and answer questions with the hopes that people will consider joining whichever committee they feel that their particular skillset could be most beneficial. Even if you don't want to be on a committee, come if you just want to support the cause. We all have a common goal to make what is already a great city even greater."
For more information visit facebook.com/mainstreetlorain.
The Ohio Main Street Program, administered by Heritage Ohio, works with communities across the state to revitalize their historic or traditional commercial areas. Based in historic preservation, the Main Street approach was developed by the National Trust for Historic Preservation to save historic commercial architecture and the fabric of American communities' built environment but has become a powerful economic development tool as well.
The Main Street program is designed to improve all aspects of the downtown or central business district, producing both tangible and intangible benefits. Improving economic management, strengthening public participation, and making downtown a fun place to visit are as critical to Main Street's future as recruiting new businesses, rehabilitating buildings, and expanding parking. Building on downtown's inherent assets - rich architecture, personal service, and traditional values and most of all, a sense of place - the Main Street approach has rekindled entrepreneurship, downtown cooperation and civic concern. It has earned national recognition as a practical strategy appropriately scaled to a community's local resources and conditions. And because it is a locally driven program, all initiative stems from local issues and concerns.